Promotions
Happy US Thanksgiving from My Poker!
From now until the end of US Thanksgiving, My Poker has opened up a the Turkey Room You will be able to enjoy many themed 75 Ball patterns such as Apple Pie, Turkey, Dinner table, and many more.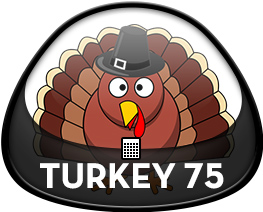 Click above view the bingo rooms
Discover and enjoy the Happy Hour games as well as other special free games throughout each day!
The Turkey room offers multiple jackpots during the Full Card game, allowing players a chance at higher prizes and more opportunities to win. Also, the bingo leaderboard and in game auto-buy will be available to all players! Be sure to try it out before it closes!
We have also activated Card offers on the Jackpot games in the Turkey room. All users will get an offer of a free card when they buy 6 cards. VIP Users will be treated with even better card offers. (Note: cards must be purchased together)

As you may be aware, older versions of software that are using Adobe Flash will no longer be supported by the major web browsers in the near future. In order to continue to deliver new features we have released our new bingo platform (previously Beta mode). Promotional rooms will now only be accessible in the current version of the Bingo software and will NOT be accessible from the Classic Mode